Whale Watching Essence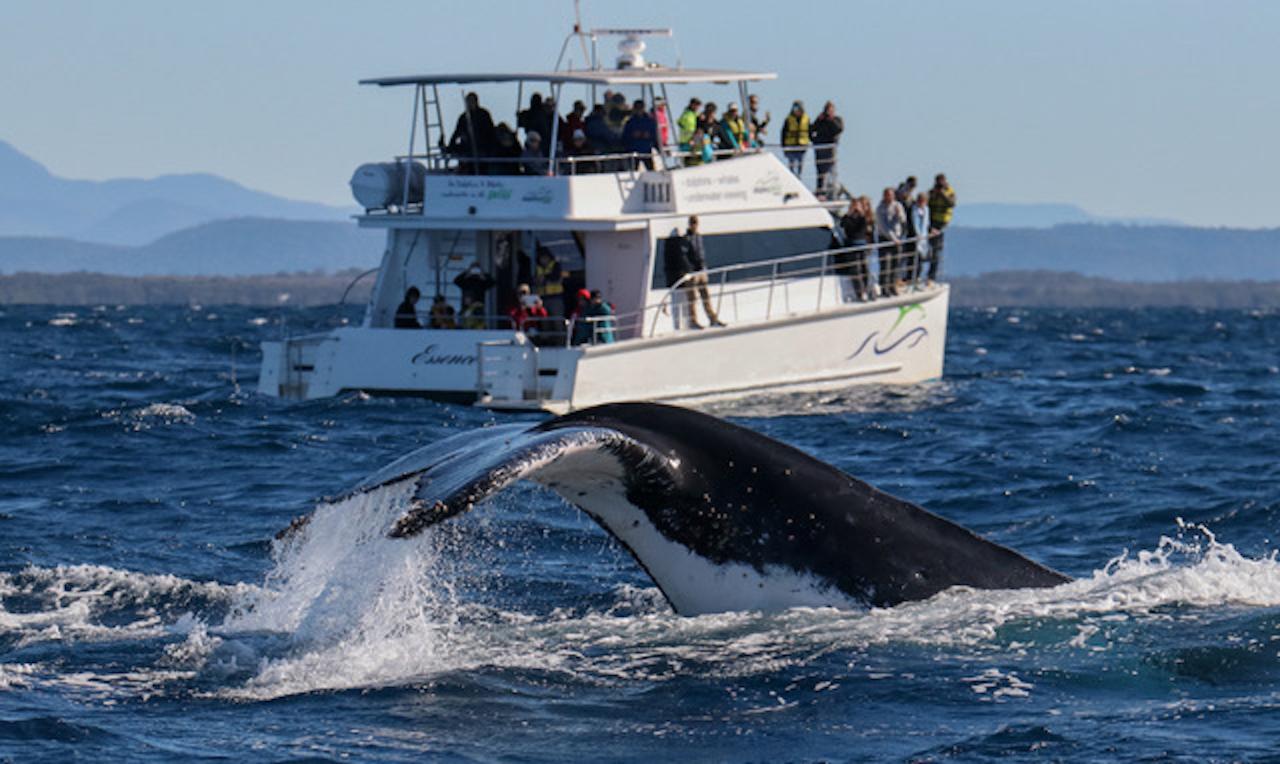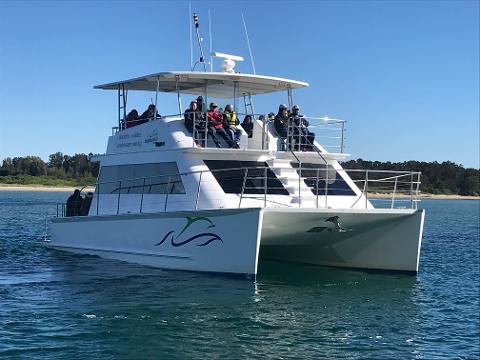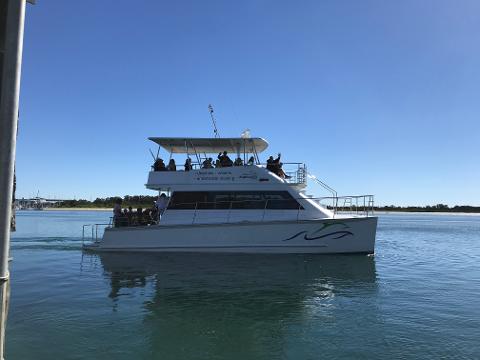 Duration: 2 Hours (approx.)
Location: Port Macquarie
Product code: WW - WR
The yearly migration of the Humpback whales is one of the highlights along the East coast of Australia. Port Macquarie offers one of the best vantage points to see whales as we are very close to the action. Just a short trip on our boat and our spotter on the hill will direct the skipper to the best sightings. Our beautiful new boat Essence, has three different viewing decks, and even has UNDERWATER VIEWING WINDOWS. Sometimes you are able to hear and smell them as they swim on by. Some passengers have got to taste the experience when the splashing gets a bit close.... so be on the lookout!
We are open every day of the season and schedule tours daily from the morning until late. Only bad weather prevents us from going out.
WHAT YOU NEED TO KNOW BEFORE RIDING WITH US !
.

*PLEASE ARRIVE 30mins BEFORE your cruise departs*
– Please note that the boat leaves at the time specified on your booking confirmation message the day before your cruise. If you miss the departure, there are no refunds.
– If you require mediations, please ensure you have all that you need with you (e.g. asthmatics, heart disease, anaphylactic etc.).

– If you have have recently visited hospital, or have a pre-existing medical condition, we would ask that you consult your GP prior to cruising. If you are pregnant, or have back or neck injury, this cruise is not suitable

– All children on your booking must be looked after at all times. Minimum age for whale watching is 4yrs. Please be aware if we are experiencing less than ideal ocean conditions it is the Skippers call on children this young heading out to sea.

WHAT TO BRING
- A warm jacket as it can get quite cold out on the water especially in the winter months. Close-toed non-slip shoes are a great choice as well for on board safety.
-Don't forget a camera, spare batteries and memory cards.

OUR FACILITIES
– Onboard Toilet
– Photographer onboard most cruises for those that would like to take some photos of these majestic creatures home with them

SEA SICKNESS
We apologize, but there are no refunds for sea sickness.
Some people never get sea sick (the lucky ones), however others need to be prepared! We advise you to take something if you are unsure – don't let sea sickness spoil your day!

Visit the pharmacy prior to the day of your cruise for motion sickness tablets to ensure you can make the most of you cruise.

We strongly recommend abstaining from large milky drinks (i.e. coffee!) and large meals on the morning of your cruise

CANCELLATIONS
Though we would love to go out on the water every day sometime mother natures doesn't play along, our passengers safety and comfort is our main priority, If the trip is cancelled, you will be transferred to the next suitable day, if we cancel due to conditions and you are unable to ride another day we will refund you.
A cancellation by the customer made less than 24 hours prior to departure incurs a 100% cancellation fee (no refund). A "no show" on the day also attracts 100% cancellation fee.

WEATHER AND OCEAN CONDTIONS
Port Jet Cruises reserves the right to change or cancel departure times due to bad weather and/or ocean conditions , we try to do so with as much notice as possible , however sometimes conditions outside and on the bar can change quite quickly meaning in some cases unfortunately the call can only be made on the morning of the cruise.
HOW CLOSE DO WE GET?
We must stand off 100 meters from the adults, and 300 meters from the cows and their young. However, they can come right up to the boat if they want – and they often do!
They can often come so close that you can smell and hear them, or even get a little wet!

Whilst all efforts will be made to ensure that your whale experience is an enjoyable one it is important to remember that these whales are wild animals – they do not perform on cue!

All encounters are conducted in accordance with the Australian National Guidelines for Whale and Dolphin Watching (2005) as well as our own strict Code of Practice.